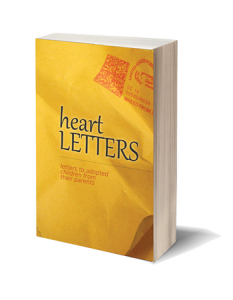 Lately, I've encountered a lot of angry adult adoptees. Many of them were understandably angry with overly-restrictive adoption laws that prevented them from having access to crucial medical records. But there were some who were enraged that they were adopted. Some have even started campaigns to outlaw adoption.
No person should carry so much rage, especially about something as fundamental as how their life was shaped.
As an adoptive parent, I felt I should do something to help children and young adult deal with their adoption in a healthy manner. I believe in adoption. I did not ask for the endometriosis that led to my infertility. But here, I am, an mother to children I never birthed. And as such, I feel like I'm on a mission to change the negative perceptions of adoption.
I started the Heart Letters Project in November 2014 (November is National Adoption Month in the United States). I love my family of five, which includes my husband and three boys adopted over six years from three different adoptions. I also love the institution of family.
A heartfelt letter from her oldest son (now 16) prompted her to create The Heart Letters Project. Letters are safe havens for sharing what's really on our hearts. I hope this book will not only help adoptees feel loved but will also help birth and adoptive parents find healing as they share their love in the form of a letter.
Are you an adoptive parent like me? Or maybe you're a birth parent? Then I need your help making a huge difference in how adoptees see themselves, their future, and their parents.
All adopted children, regardless of age or origin, have a deep need to know that they are loved.
If you believe in family too then please consider sending a message of hope and encouragement to an adoptee. You can send your message today: http://bit.ly/heartletters. I will compile them into a small gift book called Heart Letters. It will be released on February 14, 2015.
This is an excellent opportunity to touch the life of a child who was "given away" in adoption. Send a strong positive message from your heart to theirs. They need to hear from the people who have given them life—their birth and adoptive parents.
The Heart Letters Project will collect letters until December 31, 2014.