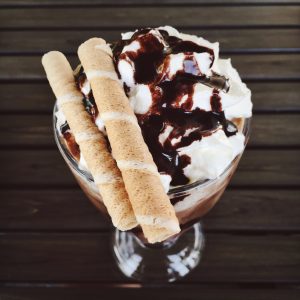 I grew up in the country where you made a lot of things from scratch. Even though I don't eat chocolate now, I have fond memories of eating scrumptious homemade chocolate frosting. One of the main ingredients of my mama's frosting was unsweetened cocoa powder. That's what one of my characters in my Christmas novella, Santa's Secret, uses in her hot fudge sauce. For those of you who don't eat chocolate, substituting carob powder is acceptable.
The main character in the novella, Chelsea Parker, makes the sauce for a couple foster kids, but it speaks Marc Waterman's love language. Their encounter ends with a kiss.
I won't tell the rest of the story. You'll have to get your copy of the book on Amazon.
Here's the purchase link: http://bit.ly/SantasSecretNovella
Gramma Elsa's Hot Fudge Sauce Recipe
INGREDIENTS
1 cup unsweetened cocoa powder (or carob powder)
1 cup sugar
1 cup heavy cream or half and half
1/2 stick salted butter, cut into pieces
3 teaspoons vanilla
INSTRUCTIONS
In a medium saucepan, stir the dry ingredients together. Stir in the cream, then turn the heat to medium. Keep stirring as it gets warm. When the mixture starts to warm up, add the butter. Keep stirring until the butter is melted. When it's thoroughly mixed in and fudgy, stir in the vanilla.
Remove from heat and let the sauce cool in the pan for 5 minutes. Pour your warm fudge sauce into a mason jar. Store it in the fridge. It'll harden as it cools. To serve from the fridge, warm it up in the microwave for 10-20 second intervals.
Adapted from Pioneer Woman © 2017
Photo credit: Madeline Tallman on Unsplash